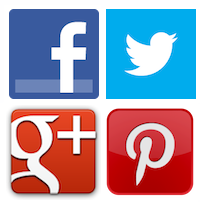 Social networking sites can drive a huge amount of traffic to your websites, Assuming you have a very good engaging unique content lets say you publish a post on "ten top social networking websites for bloggers" You share your post to 50 social networks.
Out of these 50 social networks, one person click on the link to visit your blog on each social network that is 50 unique visits for you. Assuming inside that post you shared, you have a "recommended post" or "related post" like "how to easily share your blog post to social media" Your blog visitor who clicks on the first link you shared because he is interested in it is likely to click on the second link and so on. Can you see how social media can get you massive traffic. If you have an awesome content then you will have more than one person checking it out from all the social network you shared the content.
And in this article i am going to share 4 best social networking sites to share your blog content to get a good amount of traffic back to your blog.
1. Facebook
Facebook is most popular social networking website in the world, everybody who uses phones or atleast watch television has heard of Facebook, Facebook has over 1 billion accounts and growing daily. In the terms of search engine ranking, Facebook has Google PageRank 9 and Alexa Rank 2 and over 900,000,000 estimated unique monthly visitors.
There are tons of Facebook plugins and widgets you can install on your blog to share your post by yourself and also let your blog visitor share your blog post. This is infact a great way to double your website traffic.
In terms of paid advertising, Facebook is rivaling Google when it comes to paid adverts, Facebook can find people interests and display your ads to specific set of people you want to see your ads for areally cheap price.
2. Twitter
Twitter is second most popular social networking websites after Facebook, It is a microblogging websites with 140-character text limit. Twitter has Google PageRank 10 and Alexa Rank 8, it accounts for over 350,000,000 estimated unique monthly visitors.
Twitter growth in recent years has been phenomenal, it has become a great platform to share real time news. If your blog has a content that is viral in nature then twitter will bring incredible traffic to your content.
Like Facebook, Twitter has lots of third party plugins you can use to automatically share your posts and also allow your visitors to share your post.
Sharing your contents in twitter is a good way of getting backlinks to your blog.
3. Google+
This is another social networking websites becoming more popular in 2015. Google made its debut in 2011. Google+ has experienced a phenomenal growth rate especially among webmasters and internet marketers. Google+ has Google PageRank 9 and Alexa Rank 1 with over 200,000,000 estimated unique monthly visitors. It really bring a great alternative to Facebook among webmasters.
Google uses this social media platform to give priority over page it's search engine display. If you are popular on Google+, Google tends to display your post with authorank on top of their search engines. Google+ is a must-used social platform for bloggers and webmasters to share post and get more traffic to their blog.
See Also: How To Get Dofollow Backlink From Google Plus
4. Pinterest
Pinterest is highest growing visual content sharing site, it is also a social networking websites. Pinterest has Google PageRank 9 and Alexa Rank 31. It pulls over 260,000,000 estimated unique monthly visitors.
Pinterest growth has been described as phenomenal and a great alternative to both Facebook, and Twitter combined when it comes to driving traffic to websites/blogs. It has users who are willing to spend on the right content. Pinterest can drive quality traffic to your blog when you pin your quality images in the right category on your Pinterest dashboard.
Do you know of another one that is more productive? Please mention it in the comment.